26 November, 2010- Food packaging is a huge industry and there are several key players. If you are looking for a packaging services firm then you need to identify a company that offers you the highest ROI (return on investment). There are several companies that offer turnkey contract filling for both liquid and dry food. Depending on your requirement, you can select a packaging consultancy or packaging company that offers several services under one roof.

When searching for a packaging services firm, you need to consider several options. Select a firm depending on the variety of services on offer. For example: there are some firms that compliment their primary filling services with secondary packaging services as well. This is a service that not all the food packaging companies provide. This type of service include final pack out, batching, hand assembly, counting, display packing, boxing, bundling, shrink banding, shrink wrapping, and variety packaging among others.
A top-of-the-line packaging services firm will be able to provide you with different types of raw
packaging materials
like flexible film printed cartons as well as corrugated shippers using local partners so that your end cost will be less. Most of the top food packaging firms have their in-house design teams, which will help you in providing the right and high quality material specified for a particular type of machine. This will help in avoiding expensive errors. If you choose a packaging services firm then ensure that they are able to help you in selecting the right type of film construction for your product as this will definitely help in maximizing the shelf life and will be efficient as well on the long-run.
Some of the contract filling solutions offered by top food packaging companies includes:
• Horizontal Pouching
• Vertical Form, Fill & Seal (VFFS)
• 4-sided seals
• Gusseted pouches
• Zip Locks
• Sift Proof cartons
• Dual stage filling
• Bag-in-Box
• Filling Cartons
• Canister filling
• Blending
• Composite can filling as well as seaming
• Shrink band or tamper resistant neck band • Induction seal
• Tube filling
A top packaging services firm will ensure that the entire process of filling and packing is streamlined so that food doesn't go waste or the life of foods or food material is reduced. The main causes of deterioration of packaged food is due to several reasons including enzymes, micro-organisms, chemical changes caused by heat, water, air, metals, or light, contamination due to insects, stones, soil etc., and any mechanical or physical damage. Hence, it is important for you to speak with the
food packaging
firm in advance to understand the precautions they take and how their process will help in keeping your food products safe and edible.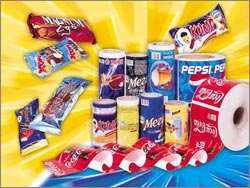 Another aspect to consider is the several types of food packaging materials used by various packaging services. The packaging material differs depending on the type of food to be packed. Industrial materials are mostly packaged using metal containers, glass, paper and cardboard, cellulose,
flexible package wrap
, polyethylene, polypropylene, and various other types of coated and laminated films.
Are you looking for a top-of-the-line Packaging Services? Now you can keep your food fresh with high quality Food Packaging.
Article Source: http://www.articlesbase.com/ - Finding the right food packaging services is very important for good marketing