Home
»
Packaging Machinery
»
Few Popular Packaging Machines
» Blister Packaging Machine


Blister Packaging Machine


Blister Packaging Machines are used to seal high visibility blister and clamshell packages using a variety of techniques -- heat sealing, fusion-welding, and radio frequency (RF) sealing - and many different types of plastics. Blister packaging machines are increasingly used for packaging products in the pharmaceutical industry as well as the food & beverage industry.
In pharmaceutical industry Blister Packaging Machines are used for the packing tablets, capsules, pills and other similar products packing. The packing process start with the capsules or tablets being loaded into a hopper and then into a feeder, which in turn can either be linear feeder or a brush box feeder depending on the shape of the product and also the material to be used. Heated rollers in the machine use different plastic films to form blisters that are subsequently filled with tablets. Some machines make use of aluminum foil to form blisters.
Machines are manufactured according to the size, depth and material used to form blisters. After tablets have been inserted in the formed blisters, cavities are heat sealed using foil. Blister Sealing Machines are used to seal filled plastic blister to a piece of coated carton board, by heat. The blister is kept in the sealing die which has the same shape as that of the cavity.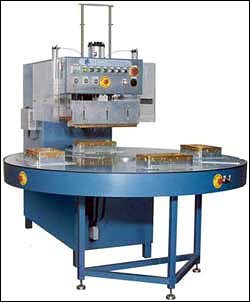 The cavities are then filled and sealed by a foil suing heat. Blister Trimming Machines are used for cutting, trimming the sealed blister or formed blister packs in individual pieces or bunch .