Home
»
Packaging Materials
» Plastic Fabrication Processes

Fabrication Processes


Compounding & Blending
Typically the addition of two or more polymers, materials or ingredients into a polymer is considered compounding or blending. This process changes the personality of a given polymer and differentiates various resins or the end-use products for which they are used.
Either measured by improvements in processability or an end-use performance property, or by overall economics of the polymers used for a given application, leading plastic fabricators and converters know enhancing the performance of existing materials can easily be achieved by compounding.
Compounds could include alloys and blends; polymer modifiers and fillers; base resins; pigment master batches for coloration; flame retardants; blowing agents; other various additives; and purge compounds for enhancing the compounding process.
Fiber Spinning
Most fibers used today are synthetic, and are produced by melt spinning. They are primarily thermoplastic materials that are melt extruded through small holes and drawn down in air to filaments, thinner than human hair. The filaments are often mechanically spun (twisted) into yarn, which is then woven into fabric, tufted into carpet or stranded into rope.
HDPE (High-density polyethylene) can be spun (drawn down) to fine thickness - less than 20 microns. That fineness is difficult for LDPE to achieve because the molecular entanglements of LDPE's (Low-density polyethylene) long chain branching retards draw down. However, lower density (lower modulus) fibers could be spun with linear low density polyethylene.
Film Extrusion
There is a wide range of high quality, high consistency polyolefin and polyvinylidene chloride products - many of which are standardized globally for easy specification, uniform processing, and superior end-product quality. Few of the products of this process are blown film, BOPE (bi-oriented Polyethylene) film, Bi-Oriented Polypropylene (BOPP) film and cast film.
Blown Film: Blown film is one of two principle processes used to fabricate film products. Films are typically defined as less than 0.254 mm (10 mils) in thickness, although blown film can be produced as high as 0.5 mm (20 mils). The blown film process is used to produce a wide variety of products, ranging from simple mono-layer films for bags to very complex multi-layer structures used in food packaging. Co-extrusion is also a growing process technology, which provides additional functional, protective, and decorative properties.


BOPP: Bi-Oriented Polypropylene (BOPP) refers to the manufacture of polypropylene films using an orienting system. BOPP films are manufactured using a tenter frame sequential process or the double bubble process, in which a polypropylene (PP) film is oriented in two directions (machine and transverse directions). BOPP films are typically used for packaging snacks, pasta, and confectionery goods, and as collation wrap for multi-packs.The main features of BOPP films are improved stiffness, high tensile strength, excellent optics and good water vapor barrier properties. BOPP films range from 15 to 50 microns and are most commonly 15 to 30 microns. BOPP films can be mono-layer or co-extruded structures, and transparent, opaque, or metalized. Additionally, BOPP films can be treated with acrylic and PVDC coatings for better sealability and barrier properties. The films use mainly homopolymer PP and random copolymer PP.


Cast Film: The cast film process involves the extrusion of polymers melted through a slot or flat die to form a thin, molten sheet or film. This film is "pinned" to the surface of a chill roll (typically water-cooled and chrome-plated) by a blast of air from an air knife or vacuum box. The film quenches immediately and then has its edges slit prior to winding. Because of the fast quench capabilities, a cast film generally has much better optics than a blown film and can be produced at higher line speeds. However, it has the disadvantage of higher scrap due to edge-trim, and very little film orientation in the cross-direction. Cast films are used in a variety of markets and applications, including stretch/cling films, personal care films, bakery films, and high clarity films. As in blown film, co-extrusion is also a growing process technology, which can provide additional functional, protective, and decorative properties.
Foaming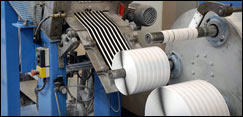 Polymer compositions may be converted to foam products using physical and/or chemical blowing agents. Foam products include, for example, extruded thermoplastic polymer foam, extruded polymer strand foam, expandable thermoplastic foam beads, expanded thermoplastic foam beads or expanded and fused thermoplastic foam beads, and various types of crosslinked foams.
The foam products may take any known physical configuration, such as sheet, round, strand geometry, rod, film, solid plank, laminated plank, coalesced strand plank, profiles and bun stock. Foam densities range from about 5 to 800 kilograms per cubic meter and cell size ranges from less than about 0.05 mm to about 15 mm. Open cell content can vary from 0 to 100 volume percent, depending upon component selection and type of process.
Foams optionally employ a stability control agent (such as glycerol monostearate) and are optionally perforated to enhance or accelerate gaseous permeation exchange wherein blowing agent exits from the foam and air enters into the foam. Various other additives (such as nucleating agents, antioxidants, pigments, fire-retardants) may optionally be incorporated into the foamable compositions.
Profile Extrusion
Profile and pipe extrusion is normally carried out using a single screw extruder which melts and conveys the pellets through an annular die. Under vacuum, the profile/pipe is then formed by cooling in a water bath with its outside diameter dimension controlled by a calibration sleeve. The profile/pipe is continually taken away from the die head by a haul-off and then cut to size.
Profiles and pipes can vary in diameter with corresponding increases in wall thickness. Processing pellets into pipes and profiles for such a large range of sizes presents different extrusion challenges. However, basic pipe extrusion requirements hold good for most sizes.
Molding Processes
Plastics can be molded using several different methods, including blow molding, injection molding and rotational molding. Different blow molding processes offer different advantages, based on the material used, performance requirements, production quantity, and costs. Plastics are used to fabricate a wide range of blow molded parts, including small bottles for household products and personal care, dairy products and carbonated drinks, small containers for industrial goods or chemicals, fuel tanks and more.