Home
» Label Printing

Label Printing


After you have the product and the container, get into labeling. When it comes to labeling, it's important to remember that the label is the "face" of your product - and it makes no sense to take shortcuts in this crucial step. What your product looks like will undoubtedly affect its marketability - so take your time and carefully consider the image you want to portray.
Size of the label
Depending on the size and shape of the container, you may need more than one label - many products have a "marketing label" on the front, such as nice images and marketing material, and a "back label" that contains all the ingredients or other supporting data like regulatory information. Alternatively, it's often possible to combine those two styles into a single design - it's completely up to you.
Also consult your label printer to see which approach is more cost-effective - while cost might not ultimately be the deciding factor, you should at least know the impact your decision will have on the overall cost-to-market.
The shape of the label is also important to consider. While most label printers have an array of common shapes and sizes, like circles, rectangles, ovals etc, your product or container may benefit from a unique shape. For instance, a regular rectangular label may not work on a "tapered" container - so once again experiment with hand-cut blanks to achieve the fit you require.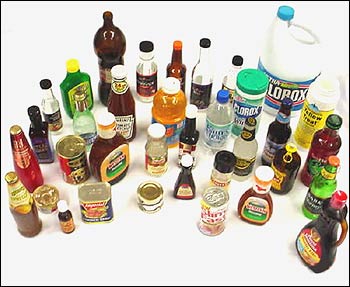 If your label printer doesn't have a die already made to that specific size/shape, you should ask for a quote to have the die made and factor that cost into your decision whether or not to pursue that approach. Keep in mind that die costs vary widely depending on the cutting equipment being used by the printer - so don't assume that all printers will quote the same die costs.